Community Living Espanola operates two group homes that are designed to provide the optimum care for residents, and to promote involvement and inclusion in the community. The group homes are equipped to cater to clients' individual needs, including medical and/or behavioural needs.
Catchment Area
Espanola and surrounding areas
Hours of Operation
Residential Services: 24 hours per day, 7 days per week
Language of Services
English
Genesis House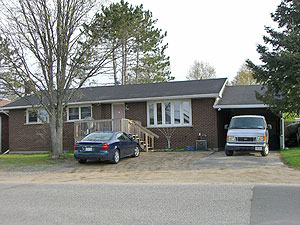 The Genesis group home, recently renovated, is a six bedroom bungalow that has central air conditioning and gas heating. The home is located in uptown Espanola. Stores and banks are within walking distance. The main floor of the home is equipped with a roomy walk-in shower facility. This washroom also contains a toilet and sink. A second bathroom is only equipped with a sink and a toilet. The living room and dining area are roomy and cozy and are designed so that you can circle from the kitchen to the dining room, into the living room and back into the kitchen again. There are six bedrooms on the main floor. The home is fully equipped with cameras facing all exits, emergency lighting and door alarms to allow staff maximum awareness of client whereabouts at all times. The lower level of the home contains the office area, laundry room and storage areas. There is a three piece bathroom available on this floor.
The front door of the home leads to a gated deck for client safety. The back door leads out to a huge backyard which is also gated. The backyard has plenty of shaded areas, a swing and a gazebo and plenty of flowers and shrubbery to enjoy.
Lucille G. Joyce Residence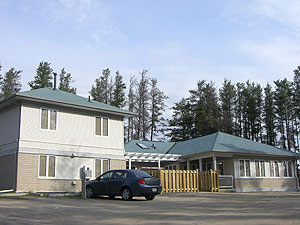 The Lucille G. Joyce (LGJ) Residence is a two level home that was built in 1994. It is directly across the road from the Espanola General Hospital. It has central air conditioning and gas heating. The home is also equipped with a generator for power outages and/or emergencies. This home was built and designed to support individuals with special wheelchair access. The home can accommodate 7 special needs individuals in their own bedrooms. There is a bathroom at each end of the main floor hallway: one bathroom contains an Arjo bathtub, lifts, grab bars around the toilet, and a special toilet that is slightly lower than a regular toilet and has a special flushing unit. The other bathroom is a regular bathroom that contains a walk-in tub and is equipped with grab bars. Both bathrooms contain mirrors that have a slight slant so that clients in the wheelchairs can see themselves without difficulty.
Four of the bedrooms in the home are specially designed for wheelchair accessibility. In three of these rooms, there are built in desks that are lower for easy access, and all closets in these rooms are built into the walls and contain dresser drawers. The kitchen and dining areas of the home are open concept, allowing heightened staff awareness of clients' whereabouts. The kitchen, dining area and living room are barrier free, allowing residents freedom of independent movement within their home. The home is equipped with cameras facing all exits, wired door alarm system, heat sensors and pull fire alarms to provide a high level of safety for all residents with complex needs. The home was also recently retrofitted with a sprinkler system and upgraded fire doors and fire separations.
The home is equipped with a fully functioning two-person elevator, so that all residents can enjoy the lower level recreation area, called "The Friendship Den".
The Friendship Den has a microwave, fridge, several pieces of exercise equipment, a television, VCR/DVD player, karaoke machine, an area to listen to music with head phones, a living area with comfortable couch and chair, tables to play games, puzzles or crafts, and a full size air hockey table. A three-piece bathroom is available contains a tub and shower equipped with grab bars.
A large part of the home's backyard is fenced in and includes a basketball net, two wooden swings and a wheelchair-accessible picnic table for all residents' leisure. The front of the building includes a gated sitting area looking out towards the street and the surrounding neighbourhood.
Located in the Lucille G. Joyce group home are four apartments that  allow residents to live independently while having support available when required from the 24 hour supervision group home staff.
Contact Dianna Boivin, Program Manager – Group Living, at (705) 869-0442 ext. #22.