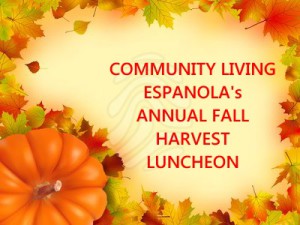 Please join us Tuesday, October 30th, 2018 from 11:00 am to 2:00 pm at the Royal Canadian Legion in Espanola for Community Living Espanola's 10th ANNUAL FALL HARVEST LUNCHEON.
There will also be door prizes and a penny table!
Tickets are $9.00 each and can be purchased at the CLE Administration Office, 345 Centre Street or by calling (705) 869-3131.  Tickets will also be available at the door.