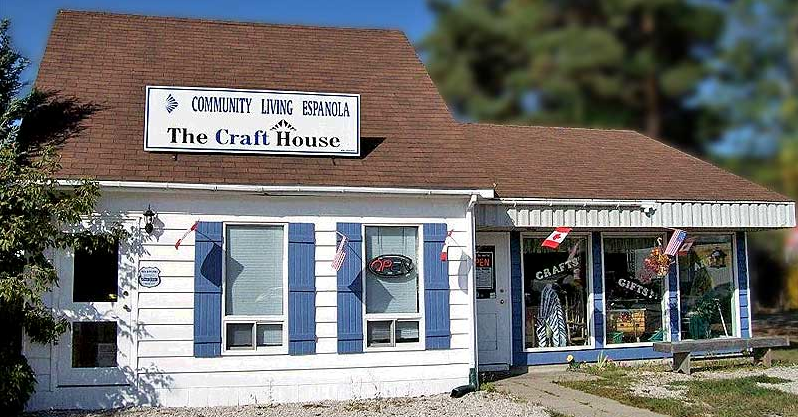 THE CRAFT HOUSE IS NOW PERMANENTLY CLOSED.  THANK YOU TO ALL OF OUR VALUED PATRONS, THE TALENTED ARTISTS AND CRAFTERS WHO SO GRACIOUSLY SHARED THEIR CRAFT AND THE ENTIRE COMMUNITY FOR SO OPENLY SUPPORTING US.  IT HAS BEEN A GREAT PLEASURE TO SERVE YOU ALL THESE YEARS AND WE WISH YOU ALL WELL.
In June 2006, Community Living Espanola opened the consignment centre which has recently been renamed "The Craft House", located at 345 Centre Street. The main focus of The Craft House is to develop a work training program for clients, providing exposure in the community, training in sales and the skills needed for many jobs in the community. The store is home to over 70 local consigners' arts and crafts, all of which make that special gift for that special someone. The store is open Monday to Friday from 9:30 a.m. to 3:00 p.m.
The Sales Team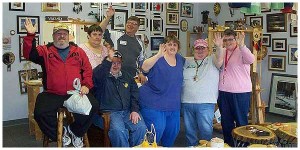 The Craft House provides employment and work training for the individuals who are Community Living Espanola. It prepares them with the skills necessary to function confidently in the workforce. Many important skills including sales training, store set-up and display, cash register operation and customer service are learned. The sales staff take great pride in their shop and the Craft House would not be the success it is without their dedication.
Featured Artists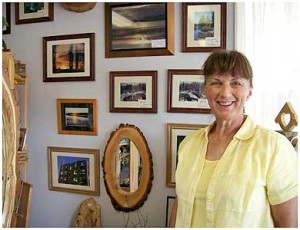 One such artist is Patricia Drohan-Bordonaba, a native New Yorker who makes Espanola her home away from home. She is an active volunteer and takes a genuine interest in the store and the staff who work there. The spotlight this year is on the artists and Pat was only too pleased to share her thoughts on the store:
I think it was back in the Spring of 2006; Kathy was knee deep in getting the new CLE Consignment Shop decorated and up and running. I mentioned that I had started doing photography and she invited me to place some of my work in the shop. I really felt like such a novice and was thrilled to be included as one of the local artists in the store.
"In July, I brought in 10 framed pictures and at least 10 of my photo note cards c/w envelopes. Within weeks one of my pictures and several cards sold! I as thrilled and not because of the financial aspect, although it is nice to receive a cheque every once in a while, but the feeling that someone actually liked my work enough to want to hang it in their home or give it as a gift was fantastic. I was later told that an Espanola High School art teacher was in fact the customer who purchased my framed picture of an old, abandoned house. That made the sale even better! Three years later, many more of my framed pictures and dozens of my cards have been part of the newly named CLE Craft House.
When I can, I help out at the shop and have a lot of fun with the Craft House staff. This past summer I helped out with rearranging and doing the displays and for several hours over four days I had a ball. I love doing display and rearranging so helping at the Craft House is a wonderful outlet for my creativity DNA.
From time to time I sell my art at flea markets or art shows, but you always have to pack and unpack all your pieces and although I sometimes sell, it is tedious to pack everything back into boxes. The Craft House has provided a wonderful venue for my work and it feels like home … like my own little art gallery."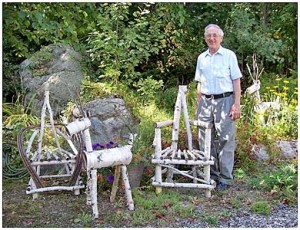 Steve Canjar is a retired school teacher. He and his wife Merle live at Clear Lake in Espanola. Surrounded by the natural beauty of water, rocks and woods, the talented couple has made art a vital part of their lives. Merle is an accomplished painter and Steve creates unusual and artistic rustic furniture. Steve has this to say about the store and offered some helpful suggestions on how to improve customer flow.
"I have worked creating rustic furniture for a number of years and display my work in the Muskoka area, as well as at the Trading Post in McKerrow. With the opening of the CLE Craft House I was able to display many of my smaller furniture items, as well as some gift items that I make, right here in Espanola.
I'm happy to be part of the Craft House because the shop gives me local exposure. The Craft House is a nice little gift shop located centrally in town, but I would like to see more signage to make people aware of what the shop includes. Perhaps a sign that lists some of the items that are sold in the store would draw more people in to take a look.
I also feel that an empty parking area in front of the store and along the side driveway makes it appear to be either just a little white house or a closed up office. Perhaps some of the office staff could park their cars near the Craft House every work day, to draw attention to the store making it look busy. Every little bit helps.
We wish CLE lots of success with the Craft House and I appreciate having my work on display there."
If you are interested in placing your original work or for more information on the Craft House, please visit the store during regular hours of operation or contact Kathy Ainslie, Executive Assistant at (705) 869-0442 ext #30.
From the Craft House Guest Book
Lynn, Amherstburg, ON – "great shop"
Holly, Woodslee, ON – "wonderful little shop with such unique gift ideas"
Elizabeth, Newton, NJ – "lovely items, such fair prices"
Jess, Waterloo, ON – "amazing store, excellent service"
Nancy, Fort McMurray, AB – "beautiful store"